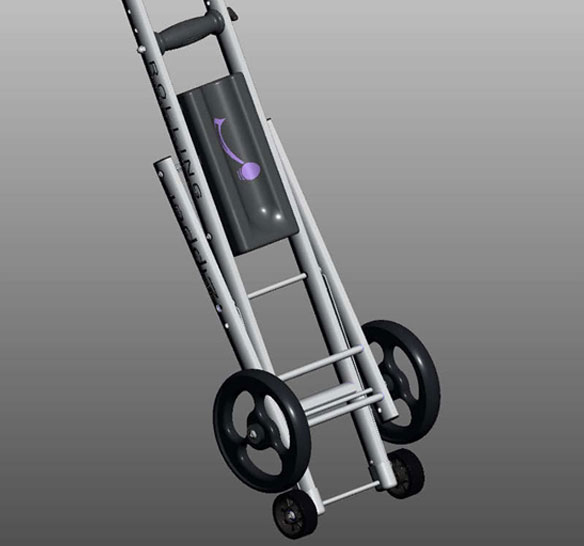 The product we are introducing is a "Rolling Crutch" which we call the "Zipper". It's a device designed as a combination of a typical crutch and knee walker, or knee scooter as they are frequently called.
The purpose of knee walkers is to allow those with temporary or permanent lower leg or foot injuries to get around without the slow use of crutches. However, the one main drawback to these devices is realized when the user approaches up or down stairways.
We put our experience and expertise to use and Engineered a solution to this by devising a knee walker which transforms into a crutch for use on stairs or difficult terrane where a typical knee crutch can't be used.
Our Zipper Rolling Crutch is Engineered to be both lightweight and strong. The aluminum tubing shape has been computer designed to withstand the stresses of up to a 250 lb weight capacity. The fully patented design weighs a bit more than a standard crutch but is 1/3 the weight of a typical knee walker. It is very quickly folded into the crutch position when needed and stays locked in this position as the rear urethane wheels are automatically locked in position acting as crutch feet.
This allows the Zipper to be used on all public transportation just as one would board a bus, train, or car. With airline permission it can be carried the aircraft. It's carried in the user's car just as a normal crutch, right in the passenger area as well as the trunk.
When folded open in the knee rolling position it glides along with its 4 full ball bearing wheels. You'd need to slow down for your walking friends to catch up with you. The rolling feel is rather like a smooth razor scooter since it uses the same type of wheel bearings.
The design has evolved through several iterations, from 3 wheels, to 4 wheels, wheels close together to far apart. We experimented with standard front wheels to oversized wheels for different terranes as well as various tubing diameters and shapes. Optimum knee rest heights have been attained as wall as knee pad materials and shapes. Through this testing over time we now have a good strong and stylish product.
The crutch position allows for persons 5 to over 6 feet tall with 4 height positions and 4.5" hand grip positions. All these adjustments are done easily from the top rather than the typical methods used on standard crutches down below.
Dimensions scooting position opened:
Knee rest height from floor 18 inches
Handle height from knee rest 24.6 inches
Wheelbase distance 16.7 inches
Wheel track front: 11.2 inches
Wheel track rear 9 ¼ inches
Nominal front wheel diameters Front 4 inches; 5 inches; and 8 inches
Wheel diameter Rear wheel/foot 3 inches
Dimensions crutch position collapsed as crutch:
Floor to shoulder: 48 – 52 inches adjustable 1 inch increments
Shoulder to hand grip: 12 – 20 inches adjustable 1 ¼ inch increments
Easy roll precision ball bearings all wheels
Semi-soft rear wheels act as non-slip feet in crutch position
Rear wheels lock position automatically when unit is folded, no special user action
Optional concealed parking brake to prevent roll away
Folding or opening time 3 seconds with one action
Knee rest and wheels fold up and latches in position
Shoulder adjustment height, pushbutton and slide
Soft built-in gel shoulder pad
Hand grip adjustment, hand knob and skewer
Flexible comfortable hand grip
Soft gel knee rest pad cradles the knee in center position
Total weight 7 lbs depending on options
Maximum support weight 250 lbs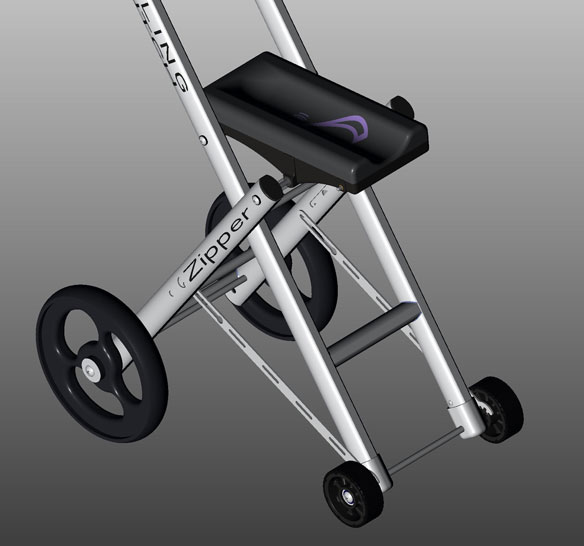 2014 First Computer Design
2015 First single test prototype built
2016 Revised Computer Design, study human body usage testing
2016 Build 10 working prototypes
2017 Secure Manufacturing costing, secure provisional patent
2017 Refine design and stiffen structure and balance, more prototypes, more humans testing
2018 More refinements and testing, awarded patent US patent no. 10,092,475 B2
2019 Further human testing and video created
2019 Further styling and strength improvements for final design
| Product comparison | Zipper the rolling crutch | Typical knee walker |
| --- | --- | --- |
| | Rolling or Crutch | Rolling only |
| | | |
| Rolling | Travel fast | Travel fast |
| Climbing stairs | Yes, quick fold-up | No, use for rolling only |
| Weight | 7 lbs | 20 lb average |
| Automobile storage | Inside with user for ease or in trunk | Fold up in large trunk |
| Use on busses/trains | Use as typical crutch to enter and sit | No, too large and cumbersome |
| Use in typical subways | Enter as crutch or wheel to inside | Possibly but need room |
| Use on aircraft | Like a crutch and may be permitted and stowed, may fit upper storage, check with airline | Fold/box and check as baggage, can't carry on plane |
| Steering | Lightweight, steering done naturally | Some have steering |
| Loose item storage | Standard strap-on bags available | Many come with basket |
| Crutch Adjustability | 5 ft to 6 ft person | No, it's not a crutch |
| Floor to knee height | 18 – 20 inches depending on pad supplied | 18 inch to 24 inch |
| Parking brake | Yes | Yes, most models |
| Stopping running brake | No, not required | Yes, most models |
| Wheels | 4 with Steel ball bearings 3 inch up to 8 inch diameter for rough surfaces | Various, 3 or 4 wheel models, various sizes |